Dump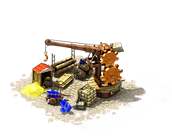 Function:
Storage of resources
Requirements:
Waste Dump ( 

Economy

 )
Expansion requirements:




Use requirements:
None
Description
A Dump enables you to store large amounts of goods. Every extension level of the Dump can hold 32,000 units of each type of good. However, the Dump is not protected from pillagers.
Building Information
The Dump is used to store goods, in addition to the Warehouses. For every level of the Dump, you gain 32,000 additional storage capacity for each resource.
A Warehouse adds an additional 8,000 resource per level storage capacity, that is configured separately from this chart.
The Town hall adds an additional 1,500 and 1,500 each luxury good (other) storage capacity that is figured separately in this chart.
When a stored resource reaches 75% of the maximum allowed, the amount appears red. When the amount reaches 100%, the amount appears bold red. Any amount received beyond maximum is lost. To increase storage capacity, upgrade your Warehouse (or build another one).
You can double the amount of resources stored by the Warehouse, the Dump and the Town hall for 7 days by spending 24 .
Note:

You can have only one Dump per town.
Same as with Warehouse: When placing goods for sale in your Trading post, capacity is subtracted from the total available to your city. This will be reflected in the tool-tip shown when you hover on your resource totals. Any resources in your Trading post will not show up in the Warehouse or Dump screen and may take you over the "Safe" limit, so watch out. The resources "hidden" in the Trading post are susceptible of being pillaged.
Expansion Details
Expansion details
Research and Reduction Building bonuses are shown in the following charts by mousing-over over the research abbreviations (P – G – SL – MR) in the chart.
You can mouse-over the letters in the "Minimum " column to see how many Warehouses are needed for that level.
You can also mouse-over the numbers in the "Build " column to get the longer version of what the numbers/Letters represent.
These reductions are separate and in addition to the researches, for up to and additional 32% reduction, providing a minimum of 46% reduction in resources.
---
The Cinetheater increases the production of and/or 1 by 20% and/or 150 
The Helios Tower increases the production of and by 10% while the tower is illuminated.  (requires )
These increases are separate and in addition to the production buildings, for 7 day increments, making the maximum possible increase in production 84%.
Remember
One (1) dump level counts as four (4) warehouse levels.
You can have a maximum of four (4) warehouses and one (1) dump, for a maximum of eight (8) "virtual" warehouses, per town.
Due to the large number of templates used to display the information on this building, we are breaking this building's expansion levels down into groups of 5, instead of the normal grouping of 10.
Other Buildings