Alternate language links for Town wall
Town wall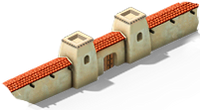 Function:
Strengthens your town defense
Increases the garrison limit
Requirements:
None
Expansion requirements:


Use requirements:
Must have at least 1 unit in town
Description
The Town wall is a building that protects your citizens against your enemies and the sun. Beware! Enemies will try to tear holes in your wall or to climb over it. Every level increases the resistance of your Town wall.
The Town wall in battle
When your city is attacked your wall is the first line of defense. Your wall occupies the front line of combat protecting your army and citizens until your opponent breaches the wall. While protected by the wall your Long-Range Fighter, Artillery, and Air units can engage the enemy. Your wall will also engage your enemies front line, with its own attacks.
All wall sections have their own Hit points 
, Attack points

and Armor points 

.
Every time you increase your Wall's level, it will gain an additional 50  hit points as well as an additional 4  armor points.
Your wall gains additional damage points per each level of increase. However, your wall will make significant gains in its damage points at levels 10 and 20.
Your wall's accuracy  will increase at levels 10 and 20 only.
As your enemy breaches a wall by doing enough damage to a section, your front line will fill in with heavy infantry. Once the entire wall is breached, flankers will engage each other. In the case that one side has no flankers or all flankers have been killed, the other side's flankers will now be able to slaughter the enemy's long-range fighter and then artillery. The number of sections of your wall is determined by the size of your Town hall.
If a city has no units capable of filling in the front line, heavy infantry, light infantry, or long-ranged fighters, stationed in it when it is attacked or they have all died and the wall is still whole then the attacking army can pillage or occupy the town as soon as they create a single breach in the wall.
Garrison limit
The Town wall contributes to your Land Garrison Limit.
Every level of the Town wall provides +50 spaces for your land units.
Expansion details
Expansion details
Research and Reduction Building bonuses are shown in the following charts by mousing-over over the research abbreviations (P – G – SL – MR) in the chart.
You can mouse-over the letters in the "Minimum " column to see how many Warehouses are needed for that level.
You can also mouse-over the numbers in the "Build " column to get the longer version of what the numbers/Letters represent.
These reductions are separate and in addition to the researches, for up to and additional 32% reduction, providing a minimum of 46% reduction in resources.
---
The Cinetheater increases the production of and/or 1 by 20% and/or 150 
The Helios Tower increases the production of and by 10% while the tower is illuminated.  (requires )
These increases are separate and in addition to the production buildings, for 7 day increments, making the maximum possible increase in production 84%.
Remember
You can have a maximum of four (4) warehouses and one (1) dump, for a maximum of eight (8) "virtual" warehouses, per town.
Due to the large number of templates used to display the information on this building, we are breaking this building's expansion levels down into groups of 8, instead of the normal grouping of 10.
Other Buildings