Alternate language links for Trading port
Trading port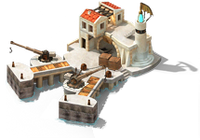 Function:
The Purchasing and loading of Cargo Ships

for the exportation of resources and units
Requirements:
None
Expansion requirements:

and

Use requirements:
At least 1 Cargo Ship

Description
The port is your gateway to the world. Here you can hire trade ships and ready them for long journeys. You can also receive precious goods from places far away. Larger trading ports can load ships faster.
Screen options
The Trading port contributes to your Sea Garrison Limit.
Every level of the trading port provides +25 spaces for your ships.
New look
Expansion Details
Expansion details
Research and Reduction Building bonuses are shown in the following charts by mousing-over over the research abbreviations (P – G – SL – MR) in the chart.
You can mouse-over the letters in the "Minimum " column to see how many Warehouses are needed for that level.
You can also mouse-over the numbers in the "Build " column to get the longer version of what the numbers/Letters represent.
These reductions are separate and in addition to the researches, for up to and additional 32% reduction, providing a minimum of 46% reduction in resources.
---
The Cinetheater increases the production of and/or 1 by 20% and/or 150 
The Helios Tower increases the production of and by 10% while the tower is illuminated.  (requires )
These increases are separate and in addition to the production buildings, for 7 day increments, making the maximum possible increase in production 84%.
Remember
You can have a maximum of four (4) warehouses and one (1) dump, for a maximum of eight (8) "virtual" warehouses, per town.
Due to the large number of templates used to display the information on this building, we are breaking this building's expansion levels down into groups of 5, instead of the normal grouping of 10.
Other Buildings