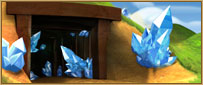 No higher resolution available.
Summary
Crystal mine image
http://s#.cc.ikariam.gameforge.com/skin/resources/img_crystal.jpg
s#

cc

The community country code. (example: en for the United Kingdom , fr for France or us for the United States )
Licensing
Image license

This file is copyrighted. It will be used in a way that qualifies as

fair use

 wp under US copyright law.
Image license

* This image will be placed into the following: [[

Category:Images

]] and [[

Category:License:Images Copyrighted by Gameforge

]].

 

Terms of use

4.

General obligations of the user

4.1.

User data

The user agrees to provide Gameforge with all future changes of his/her registration data, especially a change in the e-mail address, without delay. The user is obliged, to confirm Gameforge upon request the accuracy of his/her data.

4.2

Log-in data, identification, passwords

4.2.1.

The user is obliged to keep log-in data and all identification and passwords strictly confidential. The user may enter log-in data only on Gameforge operated Internet pages.

4.2.2.

The term "log-in data" and "identification and passwords" includes all letter and/or character and/or number sequences, used to authenticate the user and to exclude use by an unauthorized third party. The password should not be identical with the player name and it should consist of a combination of numbers and letters.

4.2.3.

The user is obliged to protect all log-in data, identifications and passwords from unauthorized access of third parties.

4.2.4.

In the event that the user has reason to believe that third parties have obtained this information, or could have, he/she shall inform Gameforge immediately and change his/her data or have it changed by Gameforge. In this case or in the event that Gameforge has evidence of misuse of data, Gameforge has the right to block the access of the user temporarily. The user shall be permitted again the use as soon as the suspicion of misuse of data has been removed.

4.2.5.

The user is under no circumstances entitled to use the log-in data of another user, unless the rules of the game provide specific exceptions.

4.3

Use of Gameforge Internet pages and content of Internet pages

4.3.1.

Gameforge websites include contents of all kind that are protected by trademarks, copyrights or by other means in favor of Gameforge or for the benefit of third parties. Unless explicitly permitted within these terms of use, the user is not entitled to edit, to copy, to distribute, to reproduce publicly, to use for advertisement or to use these beyond the contractually agreed purpose Gameforge Internet pages or the content or any portion thereof. Permitted is only the technical reproduction for the purpose of browsing as well as the permanent reproduction solely for private use. Copyright information and brand names may not be changed and not be suppressed or eliminated.

4.3.2.

The term "content" includes all data, images, text, graphics, music, sounds, sound sequences, videos, software programs and codes, and other information, provided by Gameforge on its Internet pages. The term "content" includes also all available service offerings for downloading.

4.3.3.

The user is obliged to abstain from any measure which may compromise or interrupt the proper functioning of Gameforge Internet sites or individual services, as well as from accessing data to which the user is not entitled to. The retrieval of the contents may only take place in a manner such that the use of Gameforge Internet sites and contents through other users is not affected. The transfer of data or software that can influence hardware or software from recipients is not permitted.

4.3.4.

Any use of Gameforge Internet sites for commercial purposes, especially advertisement, requires the express prior written consent of Gameforge.

4.3.5.

The user is not entitled to publish content on the Gameforge Internet pages.

4.3.6.

The use of Gameforge Internet sites through an anonymization service that is hiding the true IP address of the user is not permitted.

4.4.

Links

It is permitted to establish a link to the websites of Gameforge to the extent that it only serves as a cross reference. Gameforge reserves the right to revoke this permission. However, it is not allowed to include or present Gameforge Internet sites or their content via a hyperlink in a partial window (frame).

4.5.

Use of client software

In cases of a service, which requires the prior installation of a client software, Gameforge grants the user the non-exclusive right to download and use the client software during the validity of the registration. A duplication of the client software is only permitted to such extent as is required for a use as permitted by this contract. Any form of commercial use of the software is strictly prohibited.

Any change of the client software as well as retranslation of the entrusted program codes into another code form (decompilation) as well as other ways of reversing manufacture levels of the software (reverse-engineering) are prohibited, unless permitted by law.
Appears on these pages

of
Contents[show] Description There are large deposits of rock crystal lying under the hills...

The term resources refers to materials extracted from special island buildings which are used by...
File history
Click on a date/time to view the file as it appeared at that time.