Alternate language link(s) for Patch 0.4.5

Patch 0.4.5
Release Date
Original


---

---

---

Highlights
Smuggling
New Ships
Various miscellaneous changes
Patch Chronology
← Previous
Next →

0.4.4.1

0.5.0
Features
Smuggler contingent

Players that have not researched bureaucracy can transport 8,000 goods in or out of an occupied town per day. The amount is valid per occupied per town and not per game account.
If a town is occupied, it is not possible to transport goods out of the town over land without smuggling. Transport by sea is still possible.
If a port is occupied, it is not possible to transport goods out of the town by sea. Transport over land is still possible.
If a town and port is under foreign control, goods transportation without smuggling is not possible.
This means that players who have researched bureaucracy can not transport goods over land out of an occupied town or over sea out of an occupied port.
Changes
Bugfixes
N / A
Update 1
New Premium feature
Players will be able to donate Ambrosia

to the saw mills.
The exchange rate (Ambrosia to Building Material

) depends on level of saw mill:
Those donations will be handled just like normal donations of building material. If one of those donations will lead to an Upgrade all players of that Island will benefit (just like with normal donations of building material). To avoid exploits you do have to have at least one Ambrosia that was bought and may not donate just Ambrosia you received in Tutorial.
Update 2
New Game option
Gender:
Players can now select: Male or Female on the Game Options screen.
New Female icons are shown in the friends list, if the player changes their gender to Female.
Update 3
New Mayor

Kyra
, our new
female
" Town Adviser ", has taken office while her husband is away making preparations for the new look coming in
Patch 0.5.0
!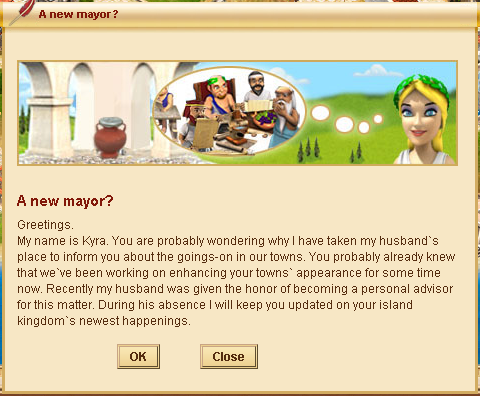 Other Patches
Version 9 Updates
There are no version 9.#.# patches at the current time!


Please verify your patch number

(s)
The BIG numbers are the 1st patch numbers that were released for that particular series.
The numbers in bold are considered to be major updates and should have patch-notes.
The numbers in italics are considered to be minor updates and may not always have patch-notes.
Community content is available under
CC-BY-SA
unless otherwise noted.