Alternate language link(s) for Cook
Cook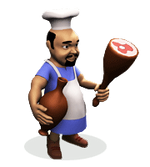 Units
Requirements
Culinary Specialties ( 

Economy

 )
Barracks Level 5
Cost
50

150

1 

10 
Description
[
]
Your army's cooks know exactly how to give new courage to the warriors and heroes in the encampment: A glass of wine and a stew, just like mum used to make! If they take the evening to remember what they are fighting for, enemies will find it very hard to wear them down.
Uses
[
]
Cooks are very useful for improving your army's morale during battle.
During battle, Cooks deploy in the reserve slots, out of the main battle lines.

As Cooks deploy out of the main battle lines, they never use their weapons, and can not be killed either.
Cooks do not move to the front battle line if not filled, so if you have no units except Cooks or other auxiliary units in a battle, they will withdraw.
You can place unlimited Cooks on the battlefield, which means that their size of 1 has no meaning on the battlefield.
Statistics
[
]
  Hit points
  Armour
  Size
  Cargo Weight
  Class
  Type
  Speed
22

-

2
20
Human
Support
40
Cost
Cost
Cost
(With Max Wine Press)
Upkeep
Training 
Barracks  
Generals
1
50
150
(

102)

| Level | Cost |   | Level | Cost |   | Level | Cost |   | Level | Cost |
| --- | --- | --- | --- | --- | --- | --- | --- | --- | --- | --- |
| 1 | 149 |   | 9 | 137 |   | 17 | 125 |   | 25 | 113 |
| 2 | 147 |   | 10 | 135 |   | 18 | 123 |   | 26 | 111 |
| 3 | 146 |   | 11 | 134 |   | 19 | 122 |   | 27 | 110 |
| 4 | 144 |   | 12 | 132 |   | 20 | 120 |   | 28 | 108 |
| 5 | 143 |   | 13 | 131 |   | 21 | 119 |   | 29 | 107 |
| 6 | 141 |   | 14 | 129 |   | 22 | 117 |   | 30 | 105 |
| 7 | 140 |   | 15 | 128 |   | 23 | 116 |   | 31 | 104 |
| 8 | 138 |   | 16 | 126 |   | 24 | 114 |   | 32 | 102 |
| Level | Cost |   | Level | Cost |   | Level | Cost |   | Level | Cost |

10
20m
5
4
Weapons
[
]
| Rank | Weapon | Damage | Accuracy | Munition |
| --- | --- | --- | --- | --- |
| - First Class | Meat Cleaver | 20 | 50% | - |
Training times
[
]
Training time = The calculated time (in seconds) needed to train the specific unit on the nth Barracks level
Base time = The time (in senonds) needed to train the specific unit on the Barracks first level that the specific unit can be trained ( for this unit 20 minutes = 1,200 seconds )
n = The nth Barracks level
n0 = The Barracks first level where the specific unit can be trained ( for this unit is the 5th Level )
This table lists the Barracks training times for each unit
Levels 11 through 20
 
11
12
13
14
15
16
17
18
19
20

Spearman
0:36
0:35
0:33
0:31
0:30
0:28
0:27
0:26
0:24
0:23

Slinger
0:57
0:54
0:52
0:49
0:47
0:44
0:42
0:40
0:38
0:36

Ram
6:39
6:19
6:00
5:42
5:25
5:09
4:53
4:38
4:25
4:11

Hoplite
3:30
3:20
3:10
3:00
2:51
2:43
2:35
2:27
2:19
2:13

Cook
14:43
13:59
13:17
12:37
11:59
11:23
10:49
10:17
9:46
9:16

Swordsman
2:20
2:13
2:06
2:00
1:54
1:48
1:43
1:38
1:33
1:28

Archer
3:16
3:06
2:57
2:48
2:40
2:32
2:24
2:17
2:10
2:04

Catapult
25:44
24:27
23:13
22:04
20:58
19:55
18:55
17:58
17:04
16:13

Doctor
18:03
17:09
16:18
15:29
14:43
13:59
13:17
12:37
11:59
11:23

Gyrocopter
14:15
13:33
12:52
12:14
11:37
11:02
10:29
9:58
9:28
8:59

Balloon-Bombardier
30:00
28:30
27:05
25:44
24:27
23:13
22:04
20:58
19:55
18:55

Steam Giant

⇒

15:00
14:15
13:33
12:52
12:14
11:37
11:02
10:29
9:58

Sulphur Carabineer

⇒

⇒

10:00
9:30
9:02
8:35
8:09
7:45
7:22
7:00

Mortar

⇒

⇒

⇒

40:00
38:00
36:06
34:18
32:35
30:58
29:25
 
11
12
13
14
15
16
17
18
19
20
This table lists the Barracks training times for each unit
Levels 21 through 30
 
21
22
23
24
25
26
27
28
29
30

Spearman
0:22
0:21
0:20
0:19
0:18
0:17
0:16
0:16
0:15
0:14

Slinger
0:34
0:33
0:31
0:30
0:28
0:27
0:25
0:24
0:23
0:22

Ram
3:59
3:47
3:36
3:25
3:15
3:05
2:56
2:47
2:39
2:31

Hoplite
2:06
2:00
1:54
1:48
1:43
1:38
1:33
1:28
1:24
1:20

Cook
8:49
8:22
7:57
7:33
7:11
6:49
6:29
6:09
5:51
5:33

Swordsman
1:24
1:20
1:16
1:12
1:08
1:05
1:02
0:59
0:56
0:53

Archer
1:58
1:52
1:46
1:41
1:36
1:31
1:27
1:22
1:18
1:14

Catapult
15:25
14:38
13:54
13:13
12:33
11:55
11:20
10:46
10:14
9:43

Doctor
10:49
10:17
9:46
9:16
8:49
8:22
7:57
7:33
7:11
6:49

Gyrocopter
8:32
8:07
7:43
7:19
6:57
6:37
6:17
5:58
5:40
5:23

Balloon-Bombardier
17:58
17:04
16:13
15:25
14:38
13:54
13:13
12:33
11:55
11:20

Steam Giant
9:28
8:59
8:32
8:07
7:43
7:19
6:57
6:37
6:17
5:58

Sulphur Carabineer
6:39
6:19
6:00
5:42
5:25
5:09
4:53
4:38
4:25
4:11

Mortar
27:57
26:33
25:13
23:57
22:46
21:37
20:33
19:31
18:32
17:37
 
21
22
23
24
25
26
27
28
29
30
This table lists the Barracks training times for each unit
Levels 31 through 40
 
31
32
33
34
35
36
37
38
39
40

Spearman
0:13
0:13
0:12
0:12
0:11
0:10
0:10
0:09
0:09
0:09

Slinger
0:21
0:20
0:19
0:18
0:17
0:16
0:15
0:15
0:14
0:13

Ram
2:23
2:16
2:09
2:03
1:57
1:51
1:45
1:40
1:35
1:30

Hoplite
1:16
1:12
1:08
1:05
1:02
0:59
0:56
0:53
0:50
0:48

Cook
5:17
5:01
4:46
4:32
4:18
4:05
3:53
3:41
3:30
3:20

Swordsman
0:50
0:48
0:46
0:43
0:41
0:39
0:37
0:35
0:34
0:32

Archer
1:11
1:07
1:04
1:01
0:58
0:55
0:52
0:49
0:47
0:45

Catapult
9:14
8:46
8:20
7:55
7:31
7:09
6:47
6:27
6:08
5:49

Doctor
6:29
6:09
5:51
5:33
5:17
5:01
4:46
4:32
4:18
4:05

Gyrocopter
5:07
4:52
4:37
4:23
4:10
3:58
3:46
3:35
3:24
3:14

Balloon-Bombardier
10:46
10:14
9:43
9:14
8:46
8:20
7:55
7:31
7:09
6:47

Steam Giant
5:40
5:23
5:07
4:52
4:37
4:23
4:10
3:58
3:46
3:35

Sulphur Carabineer
3:59
3:47
3:36
3:25
3:15
3:05
2:56
2:47
2:39
2:31

Mortar
16:44
15:54
15:06
14:21
13:38
12:57
12:18
11:41
11:06
10:33
 
31
32
33
34
35
36
37
38
39
40
This table lists the Barracks training times for each unit
Levels 41 through 50
 
41
42
43
44
45
46
47
48
49
50

Spearman
0:08
0:08
0:07
0:07
0:07
0:06
0:06
0:06
0:06
0:05

Slinger
0:13
0:12
0:11
0:11
0:10
0:10
0:09
0:09
0:09
0:08

Ram
1:26
1:22
1:18
1:14
1:10
1:07
1:03
1:00
0:57
0:54

Hoplite
0:45
0:43
0:41
0:39
0:37
0:35
0:34
0:32
0:30
0:29

Cook
3:10
3:00
2:51
2:43
2:35
2:27
2:20
2:13
2:06
2:00

Swordsman
0:30
0:29
0:27
0:26
0:25
0:24
0:22
0:21
0:20
0:19

Archer
0:42
0:40
0:38
0:36
0:35
0:33
0:31
0:30
0:28
0:27

Catapult
5:32
5:15
4:59
4:45
4:30
4:17
4:04
3:52
3:40
3:29

Doctor
3:53
3:41
3:30
3:20
3:10
3:00
2:51
2:43
2:35
2:27

Gyrocopter
3:04
2:55
2:46
2:38
2:30
2:23
2:15
2:09
2:02
1:56

Balloon-Bombardier
6:27
6:08
5:49
5:32
5:15
4:59
4:45
4:30
4:17
4:04

Steam Giant
3:24
3:14
3:04
2:55
2:46
2:38
2:30
2:23
2:15
2:09

Sulphur Carabineer
2:23
2:16
2:09
2:03
1:57
1:51
1:45
1:40
1:35
1:30

Mortar
10:01
9:31
9:03
8:36
8:10
7:45
7:22
7:00
6:39
6:19
 
41
42
43
44
45
46
47
48
49
50
Notes
[
]
Other Units