This page needs to be updated with correct links and cleaned up!
Some of this information needs to be updated with the release of Patch 0.4.5!
Alternate language link for Mortar Ship
There is no alternate language wiki listed at this time!
Mortar Ship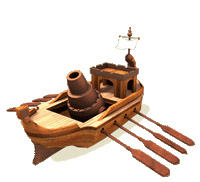 Ships
Requirements
Mortar Attachment ( 

Seafaring

 )
Shipyard Level 17
Cost
220

900

5 

50 

Description
The mortar ship has an especially large hull with a high water displacement, so that it can withstand the enormous recoil of the mortar. If the fuse of a missile is correctly measured, the powerful projectile explodes just over the enemy deck.
During sea battles, the Mortar Ships deploy to the <position>.
<number> Mortar Ships fill a battlefield space.
Statistics
|   Hit points |   Armour |   Size |   Type |   Speed | Generals |
| --- | --- | --- | --- | --- | --- |
| 112 | 6 | 4 | Long-Range Fighter, Machine | 30 | 22.4 |
| Cost | Cost | Cost | Upkeep | Construction  | Shipyard  |
| 5 | 220 | 900 | 50 | 50m | 17 |
Weapons
| Rank | Weapon | Damage | Accuracy | Munition |
| --- | --- | --- | --- | --- |
| - First Class | Projectile | 69 | 10% | 5 |
| - Second Class | Hull | 37 | 50% | - |
Mortar Ship upgrades

Mortar Ship
Offense
Effect
 
Workshop
- Thunder Grenade
Damage +2
4,500
3,000
1h
19
- Large Thunder Grenade
Damage +4
12,000
8,000
2h
20
- Armageddon Grenade
Damage +6
30,000
20,000
3h
21
Defense
Effect
 
Workshop
- Single Bulkhead
Armour +2
9,000
6,000
1h
19
- Double Bulkhead
Armour +4
24,000
16,000
2h
20
- Triple Bulkhead
Armour +6
60,000
40,000
3h
21
Construction times
This table lists training times for each ship as a function of the Shipyard
Levels 1 through 19
 
Level

Mortar
Ship
 
Level
1
40:00

⇓

⇓

⇓

⇓

⇓

⇓

⇓

⇓

⇓

⇓

1
2
38:00

⇓

⇓

⇓

⇓

⇓

⇓

⇓

⇓

⇓

⇓

2
3
36:06
50:00
50:00

⇓

⇓

⇓

⇓

⇓

⇓

⇓

⇓

3
4
34:18
47:30
47:30
30:00

⇓

⇓

⇓

⇓

⇓

⇓

⇓

4
5
32:35
45:08
45:08
28:30

⇓

⇓

⇓

⇓

⇓

⇓

⇓

5
6
30:58
42:53
42:53
27:05

⇓

⇓

⇓

⇓

⇓

⇓

⇓

6
7
29:25
40:44
40:44
25:44
1:06:40

⇓

⇓

⇓

⇓

⇓

⇓

7
8
27:57
38:42
38:42
24:27
1:03:20

⇓

⇓

⇓

⇓

⇓

⇓

8
9
26:33
36:46
36:46
23:13
1:00:10
40:00

⇓

⇓

⇓

⇓

⇓

9
10
25:13
34:56
34:56
22:04
0:57:10
38:00

⇓

⇓

⇓

⇓

⇓

10
11
23:57
33:11
33:11
20:58
0:54:18
36:06
60:00

⇓

⇓

⇓

⇓

11
12
22:46
31:31
31:31
19:55
0:51:36
34:18
57:00

⇓

⇓

⇓

⇓

12
13
21:37
29:57
29:57
18:55
0:49:01
32:35
54:09
30:00

⇓

⇓

⇓

13
14
20:33
28:27
28:27
17:58
0:46:34
30:58
51:27
28:30

⇓

⇓

⇓

14
15
19:31
27:02
27:02
17:04
0:44:14
29:25
48:53
27:05
40:00

⇓

⇓

15
16
18:32
25:41
25:41
16:13
0:42:01
27:57
46:26
25:44
38:00

⇓

⇓

16
17
17:37
24:24
24:24
15:25
0:39:55
26:33
44:07
24:27
36:06
50:00

⇓

17
18
16:43
23:10
23:10
14:37
0:37:56
25:13
41:55
23:13
34:18
47:30

⇓

18
19
15:54
22:00
22:00
13:54
0:36:02
23:57
39:49
22:04
32:35
45:08
60:00
19
 
Level

Mortar
Ship
 
Level
This table lists training times for each ship as a function of the Shipyard
Levels 20 through 38
 
Level

Mortar
Ship
 
Level
20
15:06
20:55
20:55
13:13
0:34:14
22:46
37:49
20:58
30:58
42:53
57:00
20
21
14:21
19:52
19:52
12:33
0:32:31
21:37
35:56
19:55
29:25
40:44
54:09
21
22
13:38
18:53
18:53
11:55
0:30:54
20:33
34:08
18:55
27:57
38:42
51:27
22
23
12:56
17:56
17:56
11:19
0:29:21
19:31
32:26
17:58
26:33
36:46
48:53
23
24
12:18
17:01
17:01
10:46
0:27:53
18:32
30:49
17:04
25:13
34:56
46:26
24
25
11:41
16:11
16:11
10:14
0:26:29
17:37
29:16
16:13
23:57
33:11
44:07
25
26
11:06
15:23
15:23
09:43
0:25:10
16:43
27:48
15:25
22:46
31:31
41:55
26
27
10:33
14:36
14:36
09:14
0:23:54
15:54
26:25
14:37
21:37
29:57
39:49
27
28
10:01
13:53
13:53
08:46
0:22:43
15:05
25:06
13:54
20:33
28:27
37:49
28
29
09:31
13:11
13:11
08:20
0:21:35
14:21
23:50
13:12
19:31
27:01
35:56
29
30
09:03
12:32
12:32
07:55
0:20:30
13:38
22:39
12:33
18:32
25:41
34:08
30
31
08:36
11:54
11:54
07:31
0:19:28
12:56
21:31
11:55
17:37
24:23
32:26
31
32
08:09
11:18
11:18
07:08
0:18:30
12:18
20:27
11:19
16:43
23:10
30:49
32
33
07:45
10:44
10:44
06:47
0:17:35
11:41
19:25
10:46
15:54
22:01
29:16
33
34
07:22
10:12
10:12
06:27
0:16:42
11:06
18:27
10:14
15:06
20:55
27:48
34
35
07:00
09:42
09:42
06:08
0:15:52
10:33
17:32
09:43
14:21
19:52
26:25
35
36
06:39
09:13
09:13
05:49
0:15:04
10:01
16:39
09:14
13:38
18:53
25:06
36
37
06:19
08:45
08:45
05:32
0:14:19
09:31
15:49
08:46
12:57
17:56
23:50
37
38
06:00
08:19
08:19
05:15
0:13:36
09:03
15:02
08:20
12:18
17:02
22:39
38
 
Level

Mortar
Ship
 
Level
Other Ship