Alternate language link for Steam Giant
There is no alternate language wiki listed at this time!
Steam Giant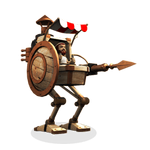 Units
Requirements
Robotics ( 

Military

 )
Barracks Level 12
Cost
130

180

2 

12 

Description
This powerful machine moves like a person on the battlefield, but has a superhuman hit strength. Stones, arrows and swords simply bounce off it. Woe betide anyone who dares to oppose it.
Attack Sequence
Front battle line → Long-range weapons battle line → Artillery → Flanks
Statistics
Weapons
| Rank | Weapon | Damage | Accuracy | Munition |
| --- | --- | --- | --- | --- |
| - First Class | Steam Lance | 42 | 80% | - |
Steam Giant upgrades

Steam Giant
Offense
Effect
 
Workshop
- Bronze Fist
Damage +1
6,000
4,000
1h
16
- Iron Fist
Damage +2
15,000
10,000
2h
17
- Steel Fist
Damage +3
36,000
24,000
3h
18
Defense
Effect
 
Workshop
- Bronze Plating
Armour +1
6,000
4,000
1h
16
- Iron Plating
Armour +2
15,000
10,000
2h
17
- Steel Plating
Armour +3
36,000
24,000
3h
18
Training times
Formula
$ { Training \ time \ = \ 0.95 \ ^ \left ( Current \ Barracks \ level \ - \ Minimum \ Barracks \ level \ for \ the \ Unit \right ) \times \ Base \ build \ time } $
$ { Training \ time \ = \ 0.95 \ ^ \left ( Current \ Barracks \ level \ - \ Minimum \ Barracks \ level \ for \ the \ Unit \right ) \times \ 900 \ seconds } $
Steam Giant Training times per Barracks Level
  Levels 1 - 14
1
2
3
4
5
6
7
8
9
10
11
12
13
14

⇒

⇒

⇒

⇒

⇒

⇒

⇒

⇒

⇒

⇒

⇒

15 m

14 m 15 s

13 m 32 s

 
  Levels 15 - 28
15
16
17
18
19
20
21
22
23
24
25
26
27
28

12 m 51 s

12 m 13 s

11 m 36 s

11 m 1 s

10 m 28 s

9 m 57 s

9 m 27 s

8 m 58 s

8 m 31 s

8 m 6 s

7 m 42 s

7 m 18 s

6 m 56 s

6 m 36 s

 
  Levels 29 - 42
29
30
31
32
33
34
35
36
37
38
39
40
41
42

6 m 16 s

5 m 57 s

5 m 39 s

5 m 22 s

5 m 6 s

4 m 51 s

4 m 36 s

4 m 22 s

4 m 9 s

3 m 57 s

3 m 45 s

3 m 34 s

3 m 23 s

3 m 13 s

 
  Levels 43 - 54
43
44
45
46
47
48
49
50
51
52
53
54
55
56

3 m 3 s

2 m 54 s

2 m 45 s

2 m 37 s

2 m 29 s

2 m 22 s

2 m 14 s

2 m 8 s

2 m 1 s

1 m 55 s

1 m 49 s

1 m 44 s

1 m 39 s

1 m 34 s

 
Other Units